INTRODUCTION TO THE ARCHAEOLOGICAL EXPERIENCE
---




Introduction to the archaeological experience
Theory and praxis


The aim of this seminar is the contact with the professional world of archaeology. The seminar is held and supervised by Greek archaeologists and will combine the history of Cretan archaeology and the praxis of archaeology today.

The first week will be dedicated to the history of the archaeological works in Crete and to some of the current theoretical issues of the subject. For better understanding we will visit ancient sites and we will discuss on concrete questions of excavation. Excavation and recording techniques will be explored through practical exercise.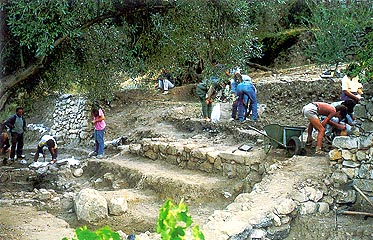 The second and third week will be dedicated to the praxis of excavation and surface survey. Field methods will be applied and explained as if in proper excavation and survey. Landscape exploration will take place.

The seminar includes:

teaching and supervision by professional archaeologist
seminar and excavation praxis in groups not more than 10 people
excursions to ancient sides and places
exploration of the Cretan landscape
introduction to desktop support and analytical techniques
introduction to finds processing, archaeological photography and archaeological drawing
The seminar will last three weeks and it can be continued so that knowledge and techniques regarding the archaeological works can be better understood and the participants can acquire more experience.

Program:

Day 1: Introduction to the archaeology of Crete with visual support
Day 2: First field visit and introduction to excavation techniques and tools
Day 3: Practical excavation on site (recording techniques, stratigraphy)
Day 4: Practical excavation on site (finds processing)
Day 5: Practical excavation on site (introduction to archaeological drawing)
Day 6-10: Practical excavation on site
Day 11: Introduction to field walking techniques
Day 12: Introduction to analytical techniques and desktop support
Day 13-15: Fieldwork
DETAILS
Period
14 October 2002 until 1 November 2002
Price
650 €
Minimum number of participants
6
Seminar material
Free
Included

Welcome dinner
Farewell dinner
Local transports in the frame of the project

Not Included
Hotel, food & beverage