---
Pottery


Pottery is one of the very few arts worldwide that survives pretty much in its original framework since prehistoric times. Crete in particular, is an ideal place to experience the world of pottery as the ceramic tradition survives since the Bronze Age when Cretan pots were famous masterpieces to the world of the time. Crete offers the unique and amazing characteristic of workshops that still use the same clay as the Minoans thousands of years ago. Besides that, fire kilns, techniques, shapes and usage have also survived, providing a unique insight in the art and craftsmanship of making pots. Our seminar will give you an enlightening overview of the history of pottery production and usage.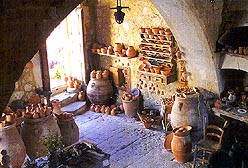 As excavation, study and conservation of ceramics allow us to learn a great deal about the past in all aspects of life you will see how nowadays specialists deal with ancient pottery, where and how they find it, how they restore, preserve and study it. Pots survive depending on various factors like the local environmental conditions, the quality of the clay and the firing and the methods of recovery. Careful recording including full description of the clay, the decoration, the size and form of the pot as well as photo and drawing records is necessary and you will be initiated in the whole process that allows us to extract amazing information about function, technology, art, economy etc.

However, this seminar is not based on lectures, although a theoretical introduction into the art of ancient pottery is included: you will visit workshops, ancient sites, conservation laboratories and museums. Most importantly you will experience a potter's skills first hand by making pots yourself at the traditional potters' village of Margarites. You will also work in a restoration lab and conserve pieces of pottery yourself. This is your chance to discover the life story of a pot and create a new one on your own!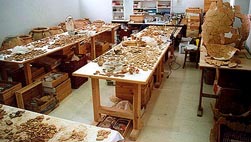 Program of the seminar:

Day 1: Theory: Types of pots. Pottery in Crete. Raw materials, clay production, potter's wheel, kiln. Visit to Fortezza castle, Rethimno.
Day 2: Visit to Margarites, make a pot yourself. (techniques, clay preparation, wheel, firing)
Day 3: Visit to Margarites, make a pot yourself.
Day 4: Visit to Margarites, make a pot yourself.
Day 5: Theory: Minoan and Hellenic period ceramics. Excavation, recording, conservation. Visit to Rethimno museum.
Day 6: Conservation at the laboratory, Ceramics from Ancient Eleftherna 9th-6th century.
Day 7: Conservation at the laboratory.
Day 8: Conservation at the laboratory.
Day 9: Visit to the ancient site of Eleftherna (under excavation).
Day 10: Visit to Chania Venetian town and museum.
DETAILS
Period
14 until 25 October 2002
Price
650 €
Minimum number of participants
6
Seminar material
Free
Included

Welcome dinner
Farewell dinner
Local transports in the frame of the project

Not Included
Hotel, food & beverage