A JOURNEY THROUGH CRETAN MUSIC
---




Lyra or Laouto, for Musicians


Cretan music is one of the most ancient folk music styles, a bridge between occidental and oriental music, which preserves the tradition in melody, rhythm as well as instruments used. The main instruments used in Cretan music are 'lyra' and 'laouto'.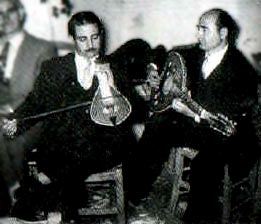 Lyra is a stringed instrument played with an arc and has hardly changed since Byzantine times. Lyra is usually pear shaped and has 3 strings. The Cretan lyra is the most popular melody instrument on the island of Crete. The lyra players play the lyra in an upright position. In the past the arc had some bells attached, the gerakokoudouna which when the arc was moving, they produced a kind of supportive sound for lyra. Although lyra was known in Greece since the 9th century, it is not known when it first came to Crete.

Laouto is also a stringed instrument played like the guitar. It comes from oud and has 4 sets of double strings tuned in la-re-sol-do. As it usually supports lyra, it is tuned in mi-la-re-sol. It has developed quite a bit since Rennaisance and is often played in combination with lyra, violin, percussion instruments and other stringed instruments like bulgari and mantolin.

These 10-day seminars are aimed for people who already play a stringed instrument and would like to explore new musical paths. Professional laouto and lyra musicians will explain the characteristics of Cretan music and you will learn how to create music through these unique instruments. A visit to a workshop that makes laoutos and lyras will enhance your understanding of the instruments. Besides that, although focus will be given these two main instruments, you will also have the opportunity to try other instruments and get a more complete idea of Cretan music.

Throughout the seminar you will be playing music and at the end you will have the chance to play with other musicians and record some of the pieces you will have learned. You will be visiting traditional villages and workshops, often playing at a little taverna or greek 'kafeneion'. This is how music is created and lived, so we're sure your participation will be a unique musical experience. The seminars will end with a traditional Cretan 'glenti' (celebration).

You can listen to some samples of cretan music here: Sample 1, Sample 2, Sample 3.


DETAILS
Period
On going
Price
650 €
Minimum number of participants
6
Seminar material
Free
Included

Welcome dinner
Farewell dinner
Local transports in the frame of the project

Not Included
Hotel, food & beverage