---
Cultural Holidays is the realisation of a different idea of Holidays, for those who seek fun and relaxation, but also challenge and knowledge and who want to explore the real culture of Crete. This program is Organised by PDM Hellas A.E., a consulting company with a sensitivity in environmental issues and the promotion of cultural events, which is based in Rethimno. It offers seminars on a variety of subjects, giving you the opportunity to combine your vacation with the acquirement of unique knowledge and experience.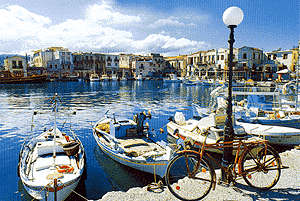 Our philosophy is your active participation throughout the seminars. No restoration seminar without restoration, no seminar about Cretan Music without playing Cretan music! Local specialists and professionals, who will be happy to share with you the secrets of their work, will guide you in this amazing experience. We will encourage this smooth feel by having the seminars in beautiful places such as old restored houses and gardens, antique Villas or scenic olive fields. You will see, smell, hear and taste the 'live' experience! We will also bring you in contact with new aspects of Cretan culture, like photography, sports or tourism trends of today. Enjoying yourselves while learning and being able to share your interests and receive expert advice and guidance is undoubtedly the best way to learn. Groups are small (no more than 10 people) and open to all ages, therefore you can attend a seminar with all your family!

Fun and relaxing holidays, however, is also our aim. Our seminars are normally not longer than 6 hours a day and we arrange to pick you up from your hotel and bring you back after the end of the seminar. Therefore, there is plenty of time left for your own activities or simply for swimming in the crystal clear blue waters of the Mediterranean. Our staff will be happy to give you hints of how and where to discover the real Crete!!

Our Initiative is supported by the local communities and organisations that wish to promote quality tourism. It refers to people with a high interest in culture and environment. Crete has a beautiful nature and culture and it should be known and protected. Alternative holidays which incorporate fun, relaxation and education and which bring together interesting people from across the world are certainly 'holy-days'...





Don't miss this opportunity, SIGN UP NOW.



Seminar Details: content, schedules, prices:



This site is best viewed with Internet Explorer.